For many of us a big part of our childhood is walking to and from school. We have heard the stories of how our parents or grandparents had to walk miles in the snow to get to school. Perhaps some of those tales were embellished just a little bit, but we got the point. A lot of kids these days have the luxury of being driven to school and picked up afterward, whether it is done by mom, dad, a community car pool or the bus provided by the school. In other countries children don't have the option of being taken to school in a comfortable car. Their journey for education takes them across rivers, lakes, mountains, and busy and dangerous cities.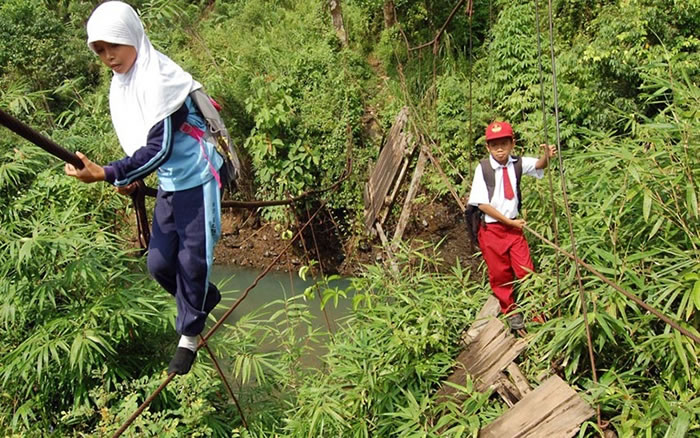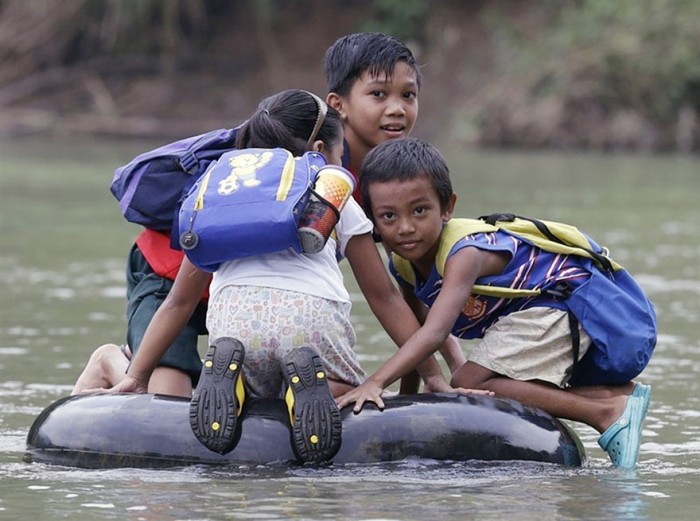 Manila, Philippines  In Manila rain can be a deadly event causing flash floods and destroying poorly build buildings. This makes getting to school very difficult for the children. In this photo students wear rubber boots and use chairs as a makeshift bridge to get to a classroom at their elementary school in the province of Taytay, Rizal . The school grounds were built on a former garbage dump site and have no drainage so it is constantly flooded with water.
Sri Lanka  In Sri Lanka, this group of schoolgirls walk across a plank between the walls of the 16th-century Galle fort everyday to get to school. There is a lack of quality infrastructure and unequal access to education in Sri Lanka. Civil conflict and the 2004 tsunami has made getting an education even tougher. In areas of the island nation, such as the central highlands, it's common for girls to work long hours for low wages instead of getting a proper education. This results in a serious literacy gap.
Shengji county, Bijie city, China In China, school children have to walk through mountain ranges to get an education. Kids walk in a straight line on an extremely steep cliff to get to Banpo Primary School in China. The school is in Shengji county, Bijie city, in the province of  Guizhou and it takes about five hours for the students to get there. The headmaster and math teacher Xu Liangfan leads the kids to the school which is half way up the mountain. The narrow path the students are walking along was carved from cliffs over 40 years ago. It is the only route between Gengguan village, where they live, and the school.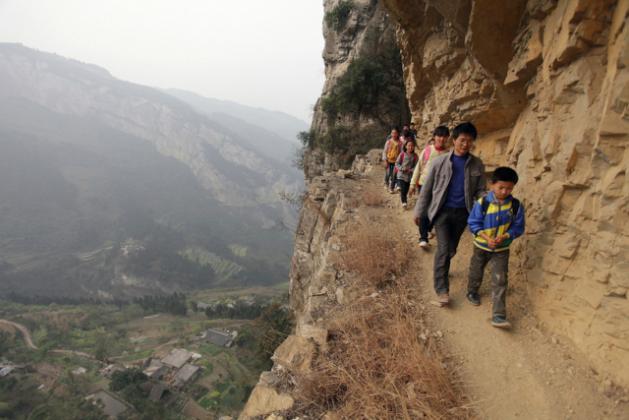 Schoolchildren Climbing On Unsecured Wooden Ladders, Zhang Jiawan Village, Southern China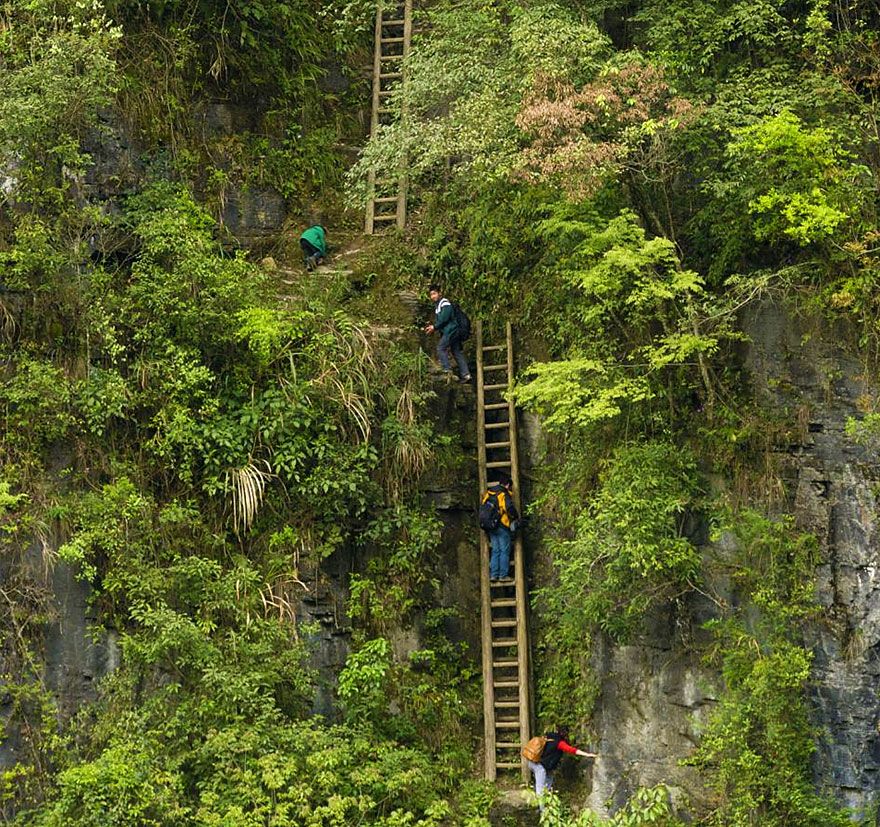 Kids Traveling To A Boarding School Through The Himalayas, Zanskar, Indian Himalayas
Pupils Crossing A Damaged Suspension Bridge, Lebak, Indonesia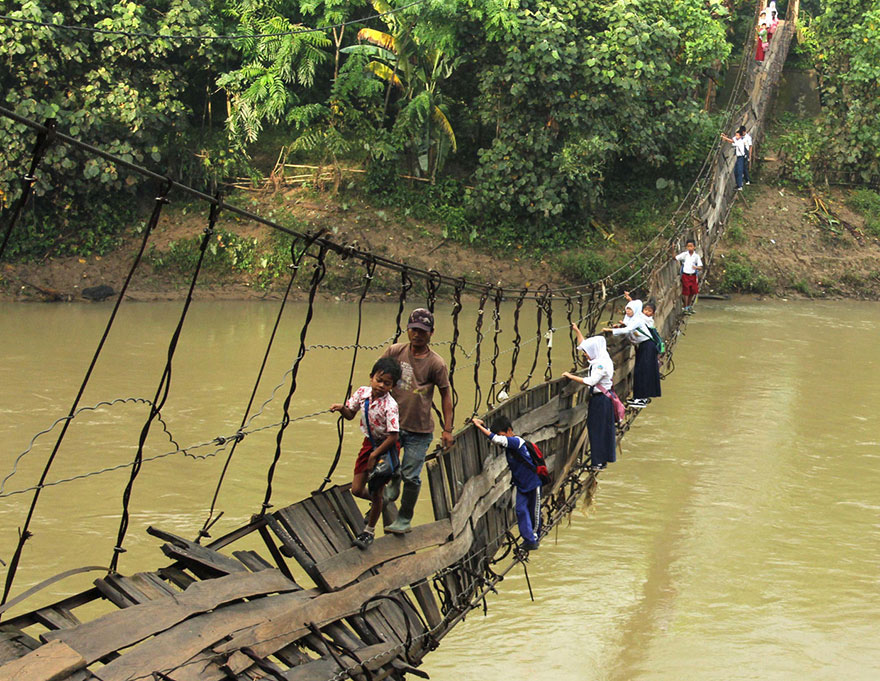 Kids Flying 800m On A Steel Cable 400m Above The Rio Negro River, Colombia
Pupils Canoeing To School, Riau, Indonesia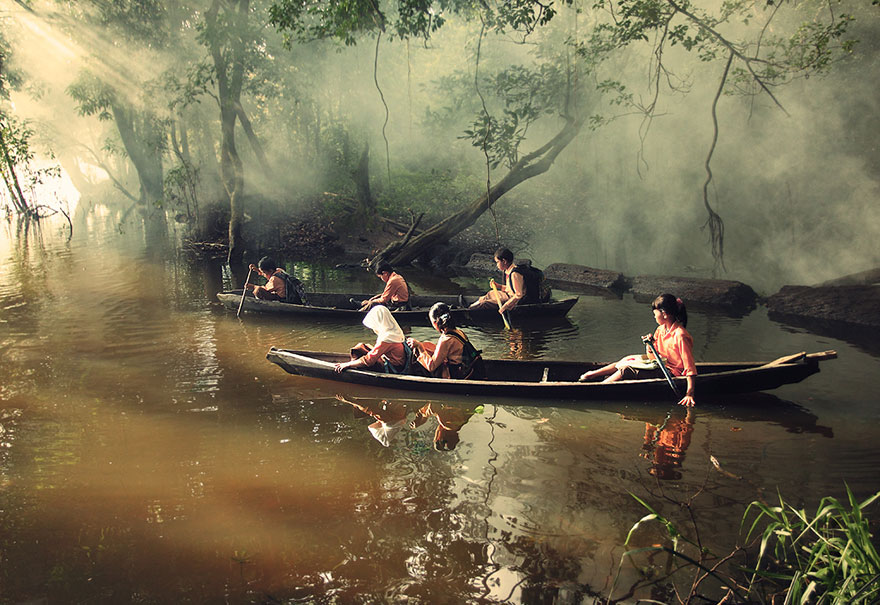 Kids Traveling Through The Forest Across A Tree Root Bridge, India
Bassi Kalan Village , India Flooding is a common and inconvenient problem in some parts of India. These primary school boys in India carry their school benches to a drier spot after their school was flooded. The school is located in Bassi Kalan village in the outskirts of Jammu. These impromptu moves cause student to travel far to go to school and is the reason why India has the largest illiterate population in the world.
A Girl Riding A Bull To School, Myanmar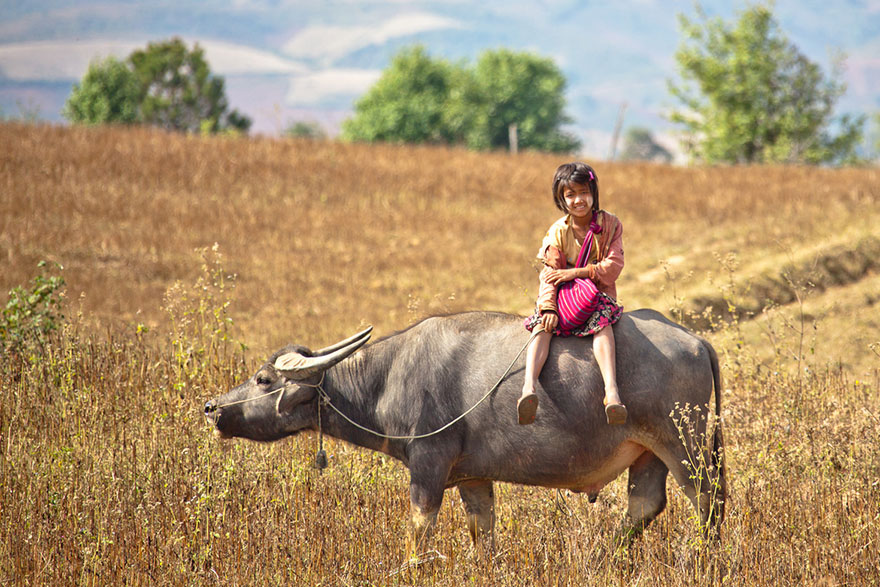 Children Traveling On The Roof Of A Wooden Boat In Pangururan, Indonesia
Pupils Traveling By Boat in Kerala, India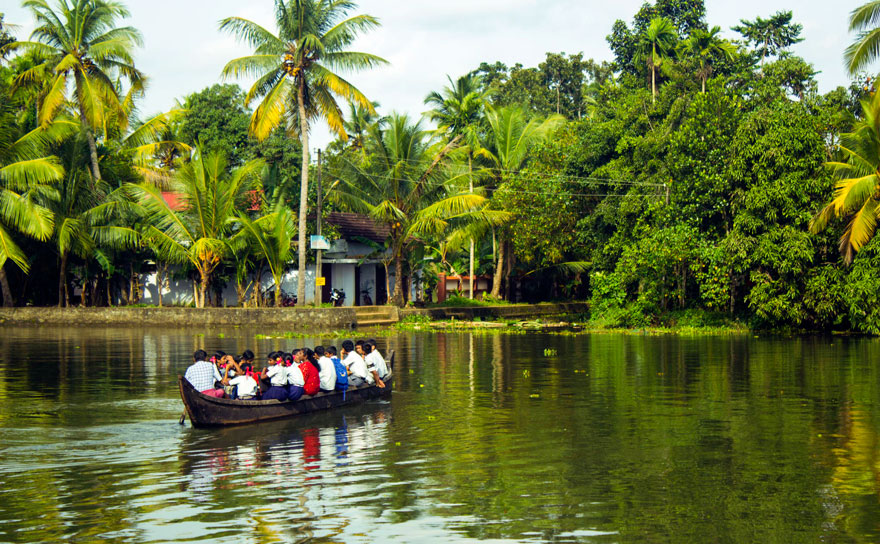 Toronto  Canada can see some pretty serious snow storms. Outside of Toronto, two students are dwarfed by power towers, and fight against a powerful winter storm to get to school. Severe winter storms often surprise the residents. Snow storms can dumped up to 50 centimeters of snow. The temperatures, as you can imagine, can get bitterly cold as well. It makes you wonder why they don't cancel school on days like this.
125-Mile Journey To A Boarding School Through The Mountains, Pili, China
Cario, Egypt In Cairo, Egypt, students have a long journey home. To cut the time it takes to make they trip they hitch a ride on the back of a trucks to get home from school. This isn't the best way to get to their destination because the drivers sometimes don't know they are on their car. It can be groups of five or more children on one truck. Their school is located in Ibsheway el-Malaq village in Gharbia governorate, about 103 miles from where they live in the northeast of Cairo.
Kasmiri, India  Children in Kashmiri, India cross a makeshift footbridge built over a stream in India to get to school. The original footbridge was damaged during a storm and has been replaced by planks and tree branches that stretch to the other end of the stream. Children have to cross this bridge going to and coming from school. One wrong step and the children can be swept away in the stream below.
Afghanistan Afghanistan was not the ideal place to go to school for the past few years. Afghanistan was crawling with U.S. soldiers and Afghan terrorist group have made this country a war zone. That still doesn't stop children from walking the streets to get to school. Everyday, school children risk their lives to get an education. Some even forfeit their education to join the fight.